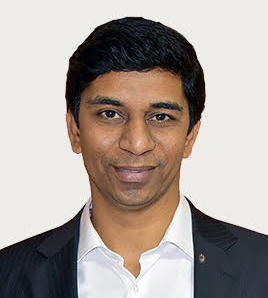 Subramanian Sivakumar
Chairman & CEO, Pratian Technologies
Subramanian Sivakumar (Subbu) is a serial entrepreneur and a servant leader with over two decades of experience in the IT industry. He has extensive cross-cultural leadership experience having worked with Fortune 500 companies, large Global Enterprises and startups in all major geographies. He has been a Digital Business Specialist, Innovator, Architect, Mentor, Strategy Consultant, and Investor.
Subbu specializes in Systems Approach to Innovation, Strategy Design and Execution, Ecosystems and Business Orchestration, Breakthrough Cost Innovation, Digital Transformation, Software Architecture & Design, and Creative Learning Models. Some of his major clients are Microsoft, Cisco, HP, Oracle, IBM, Siemens, GE, Accenture, Philips, Cerner, Access Healthcare LLC, and Amadeus.
Subbu envisions an interconnected world of Global Innovation Hubs that allows people from diverse cultures and skillset to collaborate and solve global and hyper-local problems. He places hope on young talent for breakthrough innovation and aspires to incubate 1,000 successful startups.
An avid traveler, Subbu spends most of his free time with several underprivileged people in remote villages of India. Harnessing the deepest potential in people excites him the most. An ardent student of Vedanta, Subbu spends time with his spiritual Guru in discovering the truth within, on the Banks of the Narmada or the mountains of Himalaya.
Subbu is also the CEO of the World Research Centre, a deep tech global research and investment ecosystem of the future.