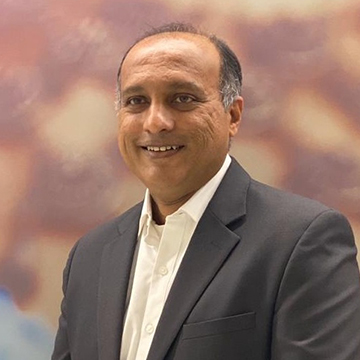 Chaitanya Sreenivas (Chinni)
Chief Talent Officer, KYNDRYL
Chinni has over 25 years of work experience having started his career in Corporate Consulting and Corporate Finance with Arthur Anderson in New York. He joined IBM in 2003 and held multiple roles in the business domain. His tryst with HR finally happened in 2005. In his last role, he was the Chief Talent Officer of Kyndryl, where he was responsible for all aspects of Talent Management including the People Strategy, Talent Acquisition, Talent Management with Skills & Careers, HR Learning and HR Data Analytics.
Chinni has championed the transformation and adoption of new age methodologies- at scale, driving enterprise-wide, co-created solutions.  He has also pivoted multiple times both at a personal level and also at an enterprise level driving change.
Chinni strongly believes that it is the open mindedness and willingness to take those calculated risks that takes you places.
On the educational side, he has a Bachelors degree in Economics from Cornell University and an MBA in Finance from Northeastern University.
Friday 19th Nov 2021
Agile Talent Management Strategies for Changing Workplace Reskilling Our Workforce for Success Including Exploring GIG
Call it an aftermath of a widespread pandemic or an opportunity to look at the way Talent is attracted, developed and retained. Reskilling of Talent and shift towards GIG culture are the two key aspects that would feature into the vision of every organization. Welcome to the most demanding 'Reskilling phase' of the century! Whether it is due to demographic shifts or gradually increasing demand along with decreasing supply of talent; talent management practices through reskilling have evolved over the years to cater to organization-specific trends. The World Economic Forum estimates that over half of all employees (54%) will require 'significant' reskilling by 2022. As demand for new capabilities gathers pace, reskilling and upskilling comes to the rescue of the organizations. It lets them remain in the battlefield by being competitive. Organizations such as Airbnb, Grofers, Ola cabs and likes have meaning fully implemented agile Talent management techniques through reskilling and made the most of GIG culture. Owing to On-demand platforms based on the digital economy and ease of work based on convenience, in the economy created a new labor force characterized by independent and contractual labor and thus the GIG culture popped up in the last few decades, and this trend accelerated during the 2020 economic crisis. Join the session to find out if all of this is at its peak, can organizations even imagine staying silent when it comes to reskilling of talent and its GIG culture!