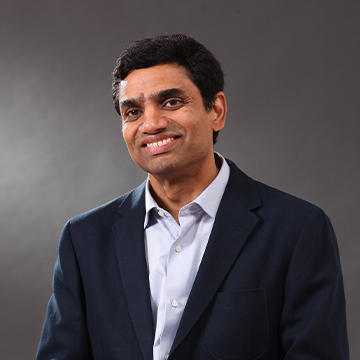 Dr.Krish Shankar
Group Head - Human Resources, Infosys
Krishnamurthy (Krish) Shankar is the Group Head of Human Resource Development at Infosys. In this role, he is responsible for envisioning employee experience and driving the talent and organization strategy.
Shankar has over 30 years of experience and has led HR functions in organizations like Bharti Airtel, Philips, Hindustan Unilever and Unilever. In his wide ranging experience in these organizations, he has facilitated transformation and capability development.
Shankar holds a postgraduate diploma in HR from XLRI, Jamshedpur, India and has received an executive certificate in Strategy and Organization from the Stanford Graduate School of Business, and a doctorate in Business Administration from Aston University.
Shankar is the author of 'Catalyse – Power Up your People Ecosystem', a much acclaimed play book for HR, blogs occasionally on LinkedIn (https://www.linkedin.com/in/krish-shankar-36666a12/), and is passionate about exploring new ideas in HR and organizational development and sharing them.  A football enthusiast, he also likes trekking and running.
Krish is also a Trustee of Infosys Foundation. He was also the President of National HRD Network from 2019-21, a not-for-profit professional body for the HR community in India.
Friday 19th Nov 2021
Embracing Hybrid with Head, Heart and Soul
Once in a generation, Leaders may have the opportunity to redesign work the way we can. Our leaders are putting their Head, Heart & Soul into designing Hybrid models, while employees are still re-evaluating their relationship with work, what will the end result look like ?A recent report by McKinsey shows that Majority of the Workforce (62%) pre-pandemic preferred Fully On Site work model, whereas Majority of the Workforce (52%) post-pandemic prefer Hybrid work model. The report also highlights the fact that a hybrid model is more complicated than a fully remote one and at scale, using it will be an unprecedented event in which all kinds of norms will be put to the test. Join us for a session on designing the next Hybrid Operating Model, Empathizing with the Workforce, Embracing the test of agility and learning culture & more!
Thursday 17th Nov 2022
Keynote address by Eminent speaker
Group Head of HR Development, Infosys